BIG BAD WOLF BOOKS
Malaysia International Exhibition and Convention Centre (MIECC)
9-23 December 2012
BIG BAD WOLF BOOKS

BIG BAD WOLF BOOKS

BIG BAD WOLF BOOKS

BIG BAD WOLF BOOKS

BIG BAD WOLF BOOKS

BIG BAD WOLF BOOKS

BIG BAD WOLF BOOKS

BIG BAD WOLF

BIG BAD WOLF BOOKS

BOOKS BIG BAD

BIG BAD WOLF BOOKS

WOLF BOOKS

BIG BAD WOLF BOOKS

BIG BAD WOLF BOOKS

BIG BAD WOLF BOOKS

BIG BAD WOLF BOOKS

BIG BAD WOLF BOOKS

BIG BAD WOLF BOOKS
BIG

The Big Bad Wolf is back again..! For book lover and for those who wish to go shopping with less price. Upto 95% discounts! This is so awesome, even though you are not a book worm this place is good enough too spend sometime finding some books that might grab your attention.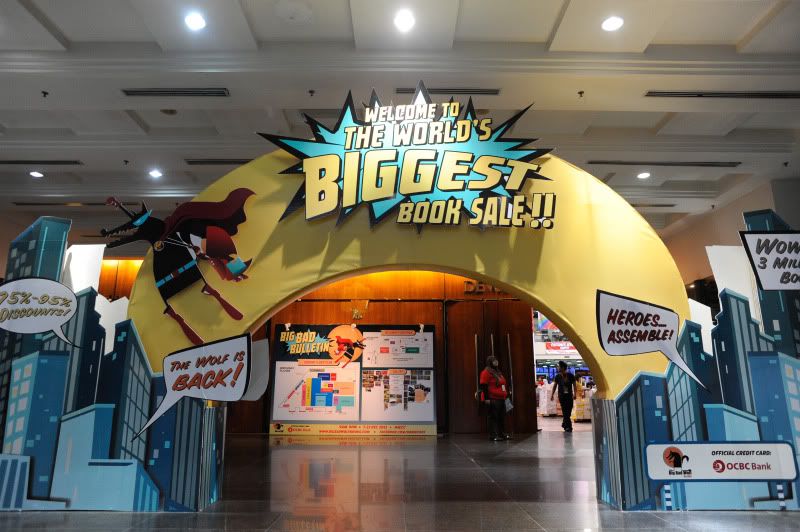 Nice entrance. I have to say that Big Bad Wolf has n amazing team of designers. Everyhting Big Bad Wolf create looks welcoming and awesome. I think I have to learn the marketing strategy from Big Bad Wolf. Will they publish a book about them? We'll see.
Facts about Big Bad Wolf Books
1) Most of the books are not newly published.
2) Books are sold as NEW, not used.
3) Many genre of books available. Such as Photography, Cook Book, Architecture and Design, Politics, Kids, Magazine and lots more (go find it yourself)
4) All price on the books are already discount. Please don't ask for more discounts. Big Bad Wolf already gave discounts up to 95%.
5) Big Bad Wolf provide a section for you to put all the books that you have pick and then you can continue looking for more.
6) There are at least 15 Cashiers available at the Exit door for you to do your payment. But during weekend, this surely will not be enough.
Big Bad Wolf bookmark.. simple and nice..
Batman and Robin at Big Bad Wolf Books. Boxed version..! They are selling Big Bad Wolf merchandises including T-shirts.
Big Bad Wolf Books (Part 1)
Big Bad Wolf Books (Part 2)
Big Bad Wolf Books (Part 3)
B

IG BAD WOLF BOOKS BIG BAD WOLF BOOKS

BIG BAD WOLF BOOKS

BIG BAD WOLF BOOKS

BIG BAD WOLF BOOKS

BIG BAD WOLF BOOKS

BIG BAD WOLF BOOKS

BIG BAD WOLF

BIG BAD WOLF BOOKS

BOOKS BIG BAD

BIG BAD WOLF BOOKS

WOLF BOOKS

BIG BAD WOLF BOOKS

BIG BAD WOLF BOOKS

BIG BAD WOLF BOOKS

BIG BAD WOLF BOOKS

BIG BAD WOLF BOOKS

BIG BAD WOLF BOOKS
BIG